Low Dose Dental CT Scans
While I use standard x-rays for many patients, I've also recently added a dental CT scanner, which creates a 3D image for more complex cases. This advanced technology allows me to give you the most in-depth diagnosis and the most precise treatment possible.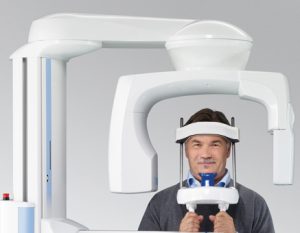 Digital Dentistry and 3D Printing
State of the art 3D dental printing gives me the ability to create custom surgical guides to ensure you have the best experience possible. Using the CBCT images and the latest software, I can plan and virtually place an implant with pinpoint accuracy. This information is then used by the 3D dental printer to create a surgical guide to guide the location, trajectory, and depth when I put your implant in place. This precision means a quicker, safer procedure, with better results for you.
In addition to assisting in implant surgery, I also use this 3D printer when working with you to design your crowns or veneers. After scanning your teeth with a special camera, I use specialized software to reshape your teeth digitally, creating a virtual smile makeover so you can see your results before we even begin the procedure. I can then send the images to the 3D printer, where your crowns or veneers are created right in my office.
The virtual design
Actual results